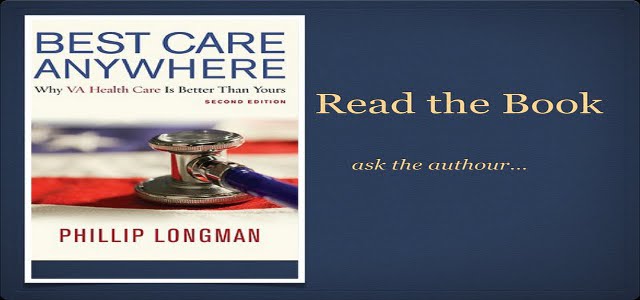 Phillip Longman, Author, "Best Care Anywhere" (BK Publishing)
See Below for Financial and Other Incentives available to Non-Profit Members of New, Nationwide, "Not-for-profit Health Service", Including ELECTRONIC MEDICAL RECORDS, Interest-Free Capital and Reserve Support, and Global Health Information Database and Revenue Sharing from Advertising.
The following excerpts (from a dated, in-house "Concept Paper" (for NAF) in support of a "Vista Total Health Network" — of non-profit providers – to which the author refers to as a proposed, "Civilian VA"), capture and reflect, in our opinion, the paper's essence, Mr. Longman's thinking, and his work product:
"This [concept paper] is a vision statement and preliminary business plan for the development of an innovative non-profit, nationally integrated healthcare network…[linking] existing public health clinics, community hospitals and other non-profit healthcare and social service organizations into a digitally integrated, 'virtual' network patterned on the VA health system…[and], by adopting the VA's health IT platform, protocols of care and quality standards …this VTHN network of affiliated accountable care organizations would replicate the best features of the VA delivery system model [and create [an] organization that is poised to become a major mechanism by which healthcare delivery system reform is achievable in the United States and the means by which a plurality of Americans receive healthcare within the next decade." (Emphasis added.)"
"Business Model Advantages…In addition to the inherent cost efficiency and medical effectiveness of the [VTHN] network's model of care, there are also many important ancillary advantages to its business model. On the revenue side, these briefly include: Federal Subsidies…Foundation Support…State Government Contracts…Federal Research Grants…Venture Capital Support…Charitable Contributions [and]…Low-cost Private Capital: its access to low-cost, financial capital based on the relative security, liquidity, and tax advantages available to investors who buy the bonds of this revenue-generating, non-profit institution." (Emphasis added.)
"The New America Foundation does not intend to play a direct role in the operations of the Vista Total Heal Network. Rather, it is seeking support that will enable it to use its expertise, contacts and influence to lay a solid foundation for the launch of this new and separate organization…Among the key early action steps New America plans to take are the following: Advisory Board Recruitment and Business Plan Development… [Including forming] Special advisory teams in at least the following distinct areas: Governance Structure; Market Research; Capital Structure; Delivery System; Supply Chain; Personnel; [and] Public Affairs."
"Many individuals can be expected to offer pro bono support, for both idealistic reasons, and because of the business and career opportunities involved in becoming associated with this enterprise. New America will also explore the possibility of working with business and medical school professors to involve graduate students in specific research projects related to the development of the business plan."
• "VistA Total Health Network" (National Non-profit Healthcare Provider Network); including
o Associated non-profit suppliers; Free clinics; Community Health Centers (almost 20,000 by 2014); Public Hospitals; VA Facilities; Medical Schools; Health Insurance Plans; and Standardized electronic health records; A Interchangeable National Health Information Database; Regional and State Health Information Exchange Technology.
Financial Incentives for Non-profit Providers Adopting Standardized, Electronic Health Records & Related IT:
Immediate, Cost-Free Assistance Qualifying for national government, Electronic Medical Records and Health Record Subsidies;
Post Subsidy, 100% NO COST (no fees and cut of billings), Standardized National EMR, EHR and Personal Health Record Software Upgrades, Hardware & Technical Support Services from 2014 Forward;
Interest free and subsidized healthcare delivery infrastructure capital and operating reserve support;
International health information database, metrics and modeling for addressing disparate care;
Universal access to standardized provider electronic medical and personal health records;
Substantially reduced projected annual increases in health plan premiums and cost of care;
Improved facilities, patient outcomes, safety records and consumer satisfaction;
Primary caregiver recruitment, retention, loan-repayment and housing subsidies;
Bulk pricing on supply, equipment, human resources and medication solutions; and
Revenue sharing from global health information database mining and advertising.